Hello. My name is Jessica and I am a SAHM(stay at home mom) to my 9 month old DS(darling son). We (my DF and I) live in Oklahoma, and this truly is where we were meant to be. I just love the people here and the laid back life style. We are a
very
Earth friendly family... I breastfeed (no cans of formula in our trashcan!), cloth diaper (did you know it's estimated to take up to 200+ years for a disposable diaper to break down?), and baby wear (more cloth items, instead of plastic/metal strollers). I also participate in our biannual kids consignment sales to buy Connor's clothes and toys at, and resale them when he's no longer using them. I try to use towels instead of paper towels as often as possible and run our fan instead of the A/C.
I'm here(the forum) looking for guidance and understanding, as I'm starting at square one. I'm a spiritual person, but have no set path. My DF is Wiccan, and I so long to connect with him spiritually. However, my mind just doesn't comprehend magic at this point (as I wouldn't expect it to!!) and I'm thinking this (forum) is a good place to start.
Like I said we have a little boy, 9 months old, his name is Connor. I don't want him to grow up the way I did... passing from church to church with a single parent (hey, wasn't her fault), not knowing what or who God(s) was, with no spiritual influence. I want him to see nature on a daily basis, to soak up sunshine and life, and to leave Mother Earth in a better place than when he arrived.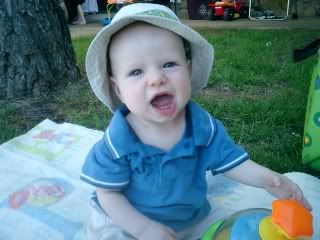 We(DF and I) have found a church that we would like to try next Sunday, the Channing Unitarian Universalist Church (
http://www.channinguuc.org/
), in hopes of some togetherness with like minded folks.
So, yeah... that's me.