Well guys, my birthday was Awesome! I only got one picture though... It is of me in the oft-mentioned corset though, so hopefully that makes up for it.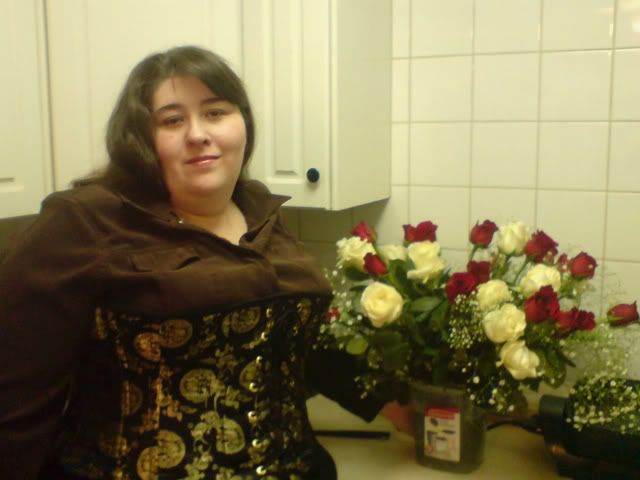 First off, I got to sleep in late. That to me, was a wonderful way to wake up. Then I hung out with Grimwell, until he ran away for work. When he got back (two hours later, maybe) he was carrying an armful of roses... 30 of them, one for each year I've been alive. A full dozen of them were white, my favourite kind, and very hard to get at this time of year. He apparently had to take apart 3 or 4 sets to get those good ones. The rest of course were red as you can see. Hilariously enough, the roses wouldn't fit into the vase I had... The only thing big enough in the house was this tupperware container.
They are still gorgeous though, and all the more precious since Grimwell never buys me flowers anymore.
We went out to a really nice dinner at East Side Mario's, a little Italian place for those of you who don't have them in your area. 8 or 9 of my friends showed up, and we had a great dinner. Afterwards we all headed out to see Avatar.
This movie is amazing! The graphics are incredible and the story, while quite familar, is wonderfully told. The story succeeds because it makes you care about the people and places involved. Go see this movie, even if you're not as fond of the sci-fi flicks usually, because if you don't you will be missing out!
That was about it though. It was an incredibly brilliant night and I loved it though.
My Dad got me a chapters gift card too... I was ecstatic!